Details
ELF - is a new generation of 1-meter wingspan discus launch glider (DLG) from Vladimir's Model. ELF allows the pilot to fly in small spaces never before suitable for flying.
ELF - a radio-controlled glider for each. Thanks to its docile flying traits, ELF will bring joy to pilots of all skill levels and experience.
ELF - is an example of modern design approach.
ELF - it combines the unique design, space age manufacturing techniques and unrivaled craftsmanship with sophisticated simplicity, elegance, and economy price.
Comprehensive computer simulation predicted C.G. location with 3mm accuracy and delivered maximum strength with minimum weight.
Thanks to unique aerodynamic characteristics designed by Dr. Drela, we achieved impressively controllable, fast flying, light and strong glider with excellent penetration.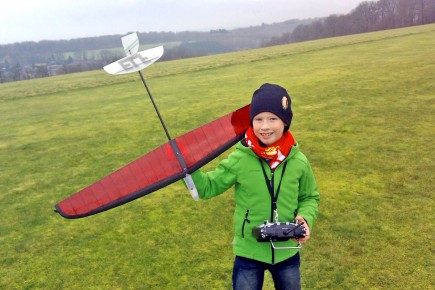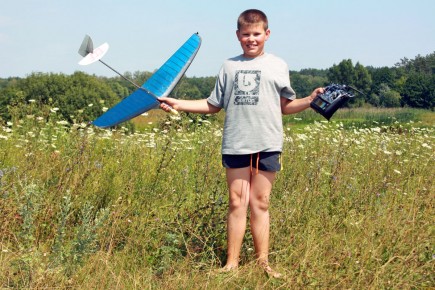 Technical data of Elf
Aerodynamic characteristics

Wing span

39 in

1.0m

Wing area

181 in²

11.7 dm²

Length

27 in

682 mm

Wing air foils

AG12, AG13, AG14

Wing aspect ratio

8.55%

Сenter of gravity

2.9-3.3" from the leading edge

Control surfaces

Rudder and elevator

Weight characteristics

Fuselage

0.58 oz

16.5 gr

Wing

1.45 oz

41.0 gr

Stabilizer

0.12 oz

3.3 gr

Fin

0.10 oz

2.8 gr

Accessories

0.14 oz

4.0 gr

NT model weight

2.46 oz

69.6 gr

Battery Smart LiPo 240

0.40 oz

11.4 gr

Servos

0.49 oz

14.0 gr

Flight weight

3.35oz

95 gr

Wing loading

2.6 oz/ft²

8.1gr/dm²
Additional Information
Features

Apachobby is offering besides as a kit, in customised Plug and Fly versions where you, the pilot is able to customise the electronics. We will assemble and build the model according to your specifications (Lead time is required). Please contact us for details.


ELF - is a new generation of 1-meter wingspan discus launch glider (DLG) from Vladimir's Model. ELF allows the pilot to fly in small spaces never before suitable for flying.

ELF - a radio-controlled glider for each. Thanks to its docile flying traits, ELF will bring joy to pilots of all skill levels and experience.

ELF - is an example of modern design approach.

ELF - it combines the unique design, space age manufacturing techniques and unrivaled craftsmanship with sophisticated simplicity, elegance, and economy price.

Multimedia
No
Specs

Elf Specification
Wing span
1.0 m
39 in
Wing area
11.7 dm2
181 sq in
Length
682 mm
27 in
Typical flying weight
95 g
3.3 oz
Wing loading
8.1 g/dm2
2.6 oz/sq ft
Wing airfoil
AG12, AG13, AG14
Dihedral angle
11 degrees
Aspect ratio
8.6
Centre of Gravity
75-77 mm from wing leading edge
Controls
Elevator & rudder

Support

Warranty
Asia Pacific Hobby warrants to the original purchaser that the product purchased (the "Product") will be free from defects in materials and workmanship at the date of purchase and a limited warranty on all the electronics for our sold aircraft for 1 year. Full warranty details in product manual.

Articles
No